Russell Watson at Batalha – Portugal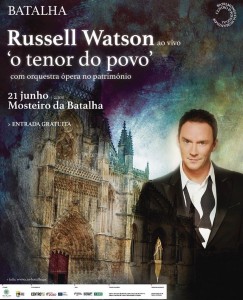 Accompanied by the Ópera no Património Orchestra Russell Watson will perform a unique concert at the Royal Cloister of the Monastery of Batalha.
A UNESCO world heritage site, the monastery of Batalha is located in the district of Leiria, in the Centro Region of Portugal and according to the Mayor of Batalha, Paulo Santos, this initiative "intends to affirm Batalha as the stage for major events of an international dimension, in line with what has been happening in recent years."
It promises to be an evening to remember!
The free-to-enter concert takes place on the evening of June 21st.