Russell Watson finds artistic inspiration in Lucerne – just like Wagner
It was a stupid thing to do. And I knew it. I had performed five concerts in four days and I was exhausted.
I'd normally switch off by spending time on our farm or perhaps watch Congleton Town FC. But, if you need to decompress, there is another option: Lucerne in central Switzerland, set on the lake of the same name.
Walking out onto the balcony of my fourth-floor suite at the Art Deco Hotel Montana above the city, I could take in all the landmarks in one sweep: the towers of Museggmauer, the old city wall; the Hofkirche with its twin spires and thunderous organ; the 14th-century Chapel Bridge across the River Reuss; the Water Tower; the lake itself and its Edwardian-era paddle steamers; Mount Pilatus which soars one mile above Lucerne; and the peaks of central Switzerland all the way to The Rigi – the 'Queen of Mountains' – in the south. Wow!
Immense and complex, Lake Lucerne consists of interlocking fjords hemmed by mountains. The combination of mountain and lake is a point of local pride. As one Lucerner put it to me: "Zürich has a lake but no mountains; Bern has no lake, just the River Aare. We call Lucerne the pocket-sized Switzerland."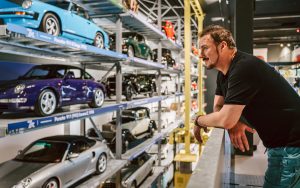 A country on the move
It was time to explore.
Sooner or later, but always bang on time, any visitor will encounter the Swiss public transport system, which is a wonder of the modern world. A Swiss travel pass will get you from any part of the country to another, by bus, train, cable car or boat. However precipitous the journey, you will arrive on time, even if it involves travelling across some of the most spectacular mountain landscapes in the world.
Swiss public transport symbolises individual freedom. Hence the importance of the Swiss Museum of Transport on the outskirts of Lucerne. This great glass building contains sections dedicated to cars, trains, tractors, boats, aeroplanes and even alloy wheels and signposts. The message is clear: this is a country on the move.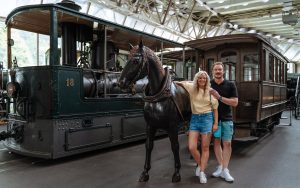 The Boss, aka Louise, aka Mrs Watson, who stables a dozen dressage horses, was puzzled to find nothing equestrian in the museum. "How can you have a transport museum without horses?" She has a point. This museum celebrates humanity's mechanical ingenuity. It points to a wonderful contradiction in the Swiss: they revere nature but refuse to let it get in their way.
Tasting 140 years of tradition
One of my favourite parts of the Museum of Transport was the Swiss Chocolate Adventure Experience, a small Lindt chocolate factory where I learnt how to ice-decorate a giant chocolate bar. It was like being back at school. One bite of Lindt was like entering the Tardis and travelling back to when Rodolphe Lindt accidentally left his chocolate machine running over the weekend and stumbled on the way to mass-produce chocolate bars. It tasted like 140 years of tradition and craftsmanship distilled into one chunk. I saw visions of alpine pastures in brilliant sunshine.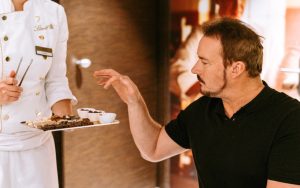 Aside from chocolate, the food in Lucerne is excellent. I recommend local dishes such as Luzerner Fritschipastete, a pie made from brioche puff pastry filled with veal, veal sausage, mushrooms and sultanas marinated in cognac; and Älpermagronen – Swiss macaroni cheese – served with caramelised onion and apple sauce, washed down with white wine made from the chasselas grape. All of it was absolutely wonderful – but all entirely inappropriate for an opera singer. These things are strictly verboten when I am preparing for a concert, so it was a pleasure to be able to indulge like this.
Artistic inspiration
And my taste buds weren't the only senses to be indulged. Lucerne is truly alive with sound. Earlier in the day, as I got off my train from Zürich, I was confronted by the KKL concert and convention hall, where the Lucerne Life Festival was in full swing, featuring local Swiss music, mainly newcomers.
Local Swiss music? You mean alpine horns and yodelling? "Yes," said our guide Linda. "We have alpine horns, but we leave yodelling to the Zug National Yodelling Festival. We have indy, hip hop and rap here."
A number of historical figures, especially artists, have come to Lucerne for 'inspiration'. They include JMW Turner, Mark Twain and Sergei Rachmaninoff. More likely they came here to escape creditors and critics while craving the freedom of being ignored. It is typical of the Lucerners' conservative and relaxed outlook that they take little interest in celebrity. There are no statues dedicated to famous Lucerners. As one local shrugged and told me: "Some artists have been inspired to produce their greatest works here, but we Lucerners just live here."
Perhaps the greatest artist who lived here – and who stretched the German concept of Gesamtkunstwerk ('total work of art') to breaking point – was Richard Wagner. For various reasons (debts, politics and marital problems) the composer and writer led a Flying Dutchman's existence. Between 1866 and 1872, he rented an 1800 house in the village of Tribschen on Lake Lucerne, which today is a Wagner museum and concert venue, and has an exhibition of his works, his actual piano and favourite armchair.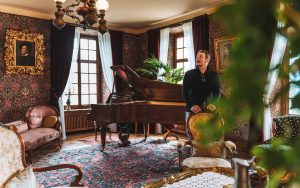 The house is set on a hillside overlooking a small park with an orchard. Intending to stay here one year, Wagner ended up staying six. I can't think how he got any work done. Besides five children, frequent visitors – including Friedrich Nietzsche, who had his own room here – and his own unfolding domestic saga, Wagner kept a Newfoundland dog, a sheep, two peacocks and various farm animals. It reminds me of our farm in Cheshire, where, besides the Boss's horses, we keep chickens, cats, dogs, a herd of alpacas and Fuzzy the ostrich.
And yet, here Wagner completed Die Meistersinger and Siegfried and worked on Götterdammerung. He also wrote:
"Wherever I cast my gaze, I am surrounded by a magical world here; I know of no other home on earth more beautiful, indeed, none more comfortable than this."
A happy place
After two days, the Boss and I agreed: Lucerne is lovely for a holiday. After three days, we were thinking: second home? There is so much to do and see. The climate is good; the place is spotless. The food and service are excellent. Everything is laid-back but you sense that things are moving like clockwork in the background.
Lucerne feels like it is brimming with history and pride. Lucerners fly the flag. They make a collective effort to keep the place looking just so. It has a family-friendly feel, it seems to be great for children. It is also a romantic setting for couples. It is definitely a happy place.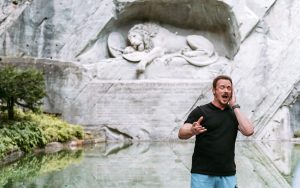 In its historic centre is a statue of a dying lion carved into a cliff face. It commemorates 760 Swiss Guards massacred while defending the Tuileries Palace in France in 1792. Mark Twain, who visited Lucerne twice, in 1878 and 1897, described it as the
"most mourning and moving piece of stone in the world".
The statue overlooks a small lake. The acoustics of this glade are…well…How could I resist?
My spontaneous rendition of the climax of O Sole Mio probably sounded to the bewildered crocodile of Japanese tourists as if the graven lion itself had roared magically into life. For me, it proved my vocal chords were roaring back to life, too.
Discover Switzerland
For more information about Lucerne-Lake Lucerne Region visit luzern.com
For more information about the Swiss Museum of Transport visit verkehrshaus.ch
Russell and Louise Watson stayed at Art Deco Hotel Montana
Switzerland is easily reachable via train from London or by Swiss International Air Lines. And once you land, the famously efficient public transport will take you to the regions you want to visit by train, bus or boat using the Swiss Travel Pass, available from the Switzerland Travel Centre.
Discover Switzerland for yourself at myswitzerland.com